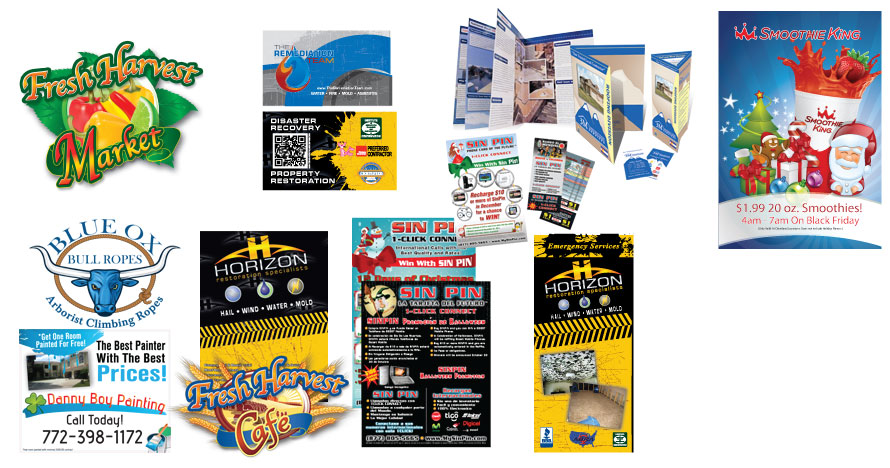 With over 15 years of printing experience our printing department takes care to make sure everything we print is of the best quality. With a network of 10 printing facilities in 7 different states we can produce and deliver your project fast. At Serious Inc we also offer many custom options to help your company stand out from the competition. Contact us at 866-614-9533 today to get a custom quote.
Pick a category to place an order or to see pricing/options for printing.
---
Printing & Graphic Design all from one place!
---
Printing
We can take care of all of your printing needs, from small to large volume jobs. We pride ourselves on having top of the line customer service and a team ready to help you get your project off the ground no matter the size. Serious Print strives to provide a convenient and affordable means to obtain your business cards, letterhead, envelopes, and other printed needs, all in one place. We specialize in fast turnaround, fair pricing, and high quality service.
Direct Mail Marketing
Direct mail is one of the most powerful marketing tools for your business. Increase sales, follow up with customers, announce that next event! Get in front of your potential customers and current customers as often as you can. With a 79% Open Rate for postcard direct mail, you know they will be reading it!
Branding
So many businesses are content with throwing up an ad, a website, and some marketing pieces and hope for the best. We believe that's a pathetic branding strategy. You want a brand that draws people in and entices them to stick around. When Serious Print is finished, your company will look, sound, and feel different from the competition. The only question we have for you is… are you ready to stand out?
Logo Design
Logo Design is one of the reasons that people choose a product three times more often when considering yours from a competitor. Its your Logo Design which easily distinguishes your business from others in your particular industry and that's where a unique business logo or a product logo can help. A logo is the spot where all branding starts from. Make sure you have a soild base to build on.
Serious Print